Dark fiber network market to register 11.9% CAGR by 2030
The global dark fiber network market size accounted for USD 5,288.6 million in 2021 and is expected to expand at a compound annual growth rate (CAGR) of 11.9% from 2022 to 2030. The technology has emerged as a sustainable solution for various organizations that are focusing on enhanced communication and network management. Continuously increasing penetration of internet services, over the period, has paved the way for the high demand for internet bandwidth. This demand is expected to remain rampant over the forecast period. This is the most significant factor responsible for market growth across the globe. The market is strongly supported by companies with a high reliance on internet connectivity. These networks are highly beneficial for organizations with a high volume of data flow in their operation. These benefits include reduced network latency, scalability, reliability, and enhanced security. In fiber optic communications, fiber optic cables that are not yet put in service by a provider or carrier, are termed as dark fiber or unlit fiber (sometimes known as fiber).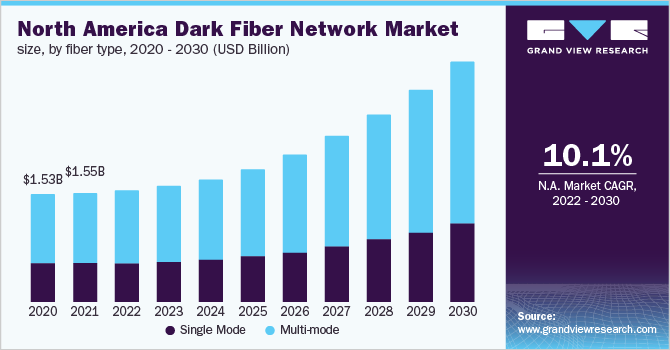 These cables are not connected to any optical device and are installed to be used at some point in the future. It is also called a new fiber construction project to be owned by a customer or service provider. In the current market scenario, network service providers are leasing these unused fiber optic cables. During the late 90s, the telecommunication industry was booming, and huge capital was poured into building these fiber-optic networks. That period saw the aggressive laying down of fiber networks along with highways and rail line (i.e., long-haul network type). Similarly, a thousand miles of local or regional network (i.e., metro network type) were laid across large cities and population centers. At the turn of the century, the telecom sector witnessed a meltdown, and these billion-dollar unused fiber network (dark fiber) infrastructures were sold at a meager price by telecom providers to avoid bankruptcy.
Due to the increasing demand for mobile data and the launch of 5G services, telecom service providers are now buying up the available dark fiber and also focusing on building their own. Other factors such as the ever-increasing bandwidth demand of handheld device user audience and mandatory conversion to HD video quality for cable operators are expected to fuel dark fiber network market growth over the forecast period.
The pricing for dark fiber in the U.S. is based on the routes, and locations, and is sometimes plainly arbitrary. Also, it relies on several other parameters such as market competition, market demand, and construction costs in a particular location. Generally, the U.S. dark fiber network pricing has been bifurcated into two major parts, including metro-area and long-haul area fiber.
The dark fiber prices in the metro area are considerably higher than in the long-haul area on a per mile basis. More urban areas' routes have considerably higher pricing in the metro area than the suburban and exurban areas' routes. This is due to the rising demand for a fiber network in urban areas. Occasionally, owing to the glut of fiber, the prices of dark fiber networks push down in the urban areas. Moreover, it has been observed that the dark fiber prices in the long-haul areas are more consistent than the metro-area routes.
Fiber type insights
In 2021, the multi-mode segment led the market in terms of revenue and held around 62% of the total market share. It is also expected to continue leading the market over the forecast period. This type is best suited for short transmission distances. It is mainly used in video surveillance and Local-area Network (LAN) systems. Single-mode fiber, on the other hand, is best suited for longer transmission distances. It is mainly used in multi-channel television broadcast systems and long-distance telephony. The single-mode segment is anticipated to witness considerable growth over the projected period. This product type is used for long-distance installations ranging from 2 meters to 10,000 meters. It offers lower power loss in comparison to multi-mode. However, it is costlier than multi-mode fibers.
Network type insights
Long-haul fiber is expected to show a high growth rate of 12.8% during the forecast period 2022-2030. The segment continues to gather pace due to its capacity to connect over large distances at low signal intensity. Such long-haul terrestrial networks are widely applied in undersea cabling across long oceanic distances, thus attracting the participation of several organizations in terms of investments. For instance, in October 2021, Zayo Group Holdings Inc has completed three new long-haul dark fiber routes from Denver to Salt Lake City, Atlanta to Dallas, and Eugene to Reedsport. The long-haul network is driven by continuously growing investments, the development of smart cities, and strong competitive dynamics in the market.
Application insights
In terms of revenue, the telecommunication segment dominated the market with a share of 42.6% in 2021 and is anticipated to retain its dominance in terms of market size by 2030. Telecommunication is anticipated to present promising growth prospects due to the growing adoption of the 5G technology in communication and data transmission services. Dark fiber enables high-speed data transfer services in both small and long-range communications. Furthermore, increasing cloud-based applications, audio-video services, and Video-on-Demand (VoD) services stimulate demand.
Medical and military and aerospace application segments are poised to witness significant growth, attributed to the increasing adoption of optic technology devices. Stringent regulations and standards imposed by the regulatory authorities and medical associations are further fueling the market to flourish in the medical sector, eventually driving the overall growth.
Regional insights
In 2021, North America held the largest market share in terms of revenue with around 29%. Asia Pacific is spearheading revenue growth owing to technological advancements and large-scale adoption of the technology in the IT and telecommunication and administrative sector. High penetration of the technology in the manufacturing sector and expanding the IT and telecom sectors across the Asia Pacific are strengthening the regional market hold. Moreover, the increasing application of fiber networks in the medical sector is catapulting growth across countries, such as China, Japan, and India, thus propelling the overall demand at a significant pace.
The pricing for non-metro regions is estimated to be higher than that of the metro region, on account of the lack of infrastructure and the lack of presence of dark fiber providers. Governments of developed countries such as the U.S., the U.K., Germany, China, and Japan are heavily investing in security infrastructure at country levels. Awareness is growing among the rapidly developing economies that aim to strengthen their hold at the global level. This is eventually necessitating the funding for technologies, majorly across the fiber networks that would enhance the telecommunication sector infrastructure with better security measures. BCS Bureau